What is Participant Assistance and Care?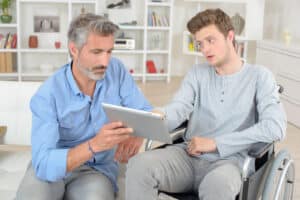 Participant Assistance and Care, abbreviated PAC, is a type of care that offers support and hands-on help with a variety of situations for people with developmental disabilities. Whether your family member needs a little bit of help or a lot more assistance, PAC can often make a huge difference.
Assistance with Personal Care Tasks
Personal care tasks, like bathing and dressing, might be difficult due to developmental disabilities. On her own, those tasks might be ones that take all day to accomplish or are impossible. With just a little bit of help, though, your family member might be able to handle those tasks.
Help Completing Daily Chores
Beyond personal care tasks there are also daily chores and other tasks that need to be handled, like running errands, paying bills, and dealing with mail. Making the bed and dealing with dishes after eating also fall into this category. If your family member only needs a little guidance staying on task, this might be the way to help her.
Assistance with Mobility Concerns
Some developmental disabilities come with mobility trouble, which can present even larger problems for your family member. Participant Assistance and Care offers help navigating those challenges both at home and out in public. This might involve learning how to use new mobility assistance tools, too.
Troubleshooting Assistive Technologies
Assistive technologies are wonderful when they work properly, but sometimes they need troubleshooting. Your family member may not be able to do that troubleshooting, which can leave her without the assistive technology she relies on daily. PAC services can help with this.
Transportation Assistance
Getting where she needs to go is important for your family member, too. And if other family members aren't available to help with transportation, that can be a problem. Participant Assistance and Care personnel are well-versed in helping your family member with her specific needs.
Help with Behavioral Goals
Your family member may have some behavioral goals, as well. It's difficult to meet those sometimes, but with patient and experienced help, your family member can learn techniques that help her to cope. Those techniques can also help her to get closer to achieving those goals.
With just a little bit of help, your family member can get the support that she needs to live an independent and fulfilled life. Her needs may continue to change over time, but with PAC, she can still get the help she needs.
If you are considering residential habilitation services in Greenfield, IN, please call the caring staff at RSI Cares. Serving Greater Indianapolis Area. Call for Immediate Info & Assistance: 317-471-0750.
Latest posts by Etelka Froymovich
(see all)