What Skills Can Habilitation Help Develop?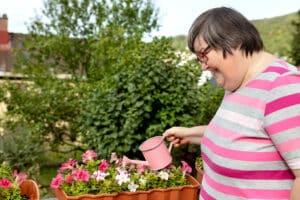 Your family member may seem as if she has gaps in her skill sets, especially if she's had to learn other skills in place of ones you take for granted. Residential habilitation services can bridge that gap for her.
Social and Communication Skills
Getting along with others isn't as easy as it looks, especially if the skills that other people take for granted are ones that your family member never really learned. Some developmental disabilities cause your family member to lag behind her peers. Mastering these skills now can be tremendously beneficial in other areas.
Skills Related to School or to Work
Skills that your family member needs in order to succeed in school or work settings are almost universally ones that she can learn with help. By practicing these skills over and over again, your family member is able to experience success on a level that she may not have been able to achieve before. That can be tremendously empowering.
Using and Managing Money
If your family member is finally able to start working at a job, she may be earning money for the first time. She's going to need to know how to use money and how to manage it, on a daily basis and in longer terms, too. This is another skill that can be incredibly empowering for her, especially if she's never really used money in the past.
Safety Skills
Safety is always important, for every single person. Understanding why certain things are unsafe to do in a particular way may be something that your family member needs to hear again and again. Once she does master keeping herself as safe as possible, she may be able to also do more and experience more freedom than she has in the past.
Personal Care Skills
Personal care skills are more complicated than most people think, especially since they learned to master most of those skills at a young age. But if your family member was unable to learn those skills until now, that's okay. She can still become proficient at brushing her teeth, combing her hair, and getting dressed with minimal verbal prompts.
Learning How to Ask for and Get Help
There are plenty of adults who have a difficult time asking for help. You don't want your family member to be in that same situation. Helping her to learn that it's okay to ask for help and, even more important, the best ways to ask for help, can give her a skill that she finds helpful every single day.
Residential habilitation allows your family member to learn at her own pace and to repeat skills and tasks as many times as she needs to in order to become as independent as possible.
If you are considering therapy programs in Lawrence, IN, please call the caring staff at RSI Cares. Serving Greater Indianapolis Area. Call for Immediate Info & Assistance: 317-471-0750.
Latest posts by Etelka Froymovich
(see all)