How to Set Habilitation Goals for Someone with Down Syndrome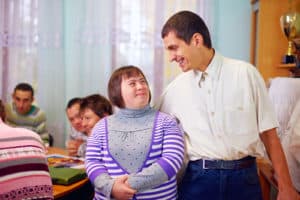 Down syndrome affects every individual differently because it's a chromosomal disorder. Some people with Down syndrome need a little bit of extra help to master skills that help them to live independently and with other people. Setting goals for learning those skills ensures that your family member is able to make the progress she wants to make.
Evaluate What She Can Do Already
When setting habilitation goals, it's important to assess what your family member can already do. Her existing skills can help her to achieve even more, but it's important to have a beginning metric on which to build. Residential habilitation providers can help you to determine where the starting point is, so that you can develop appropriate goals.
Consider General Life Skills She Might Be Missing
You may also have some specific ideas about life skills that you know your family member needs to master. These types of skills are usually everyday skills that your family member will need to know in order to live independently. Some examples could be learning to dress herself, learning to make a simple meal for herself, or even mastering the steps of her bedtime routine.
Goals Might Be Personal or Social
The goals that your family member needs and wants to master could cover a wide range of different topics. Most of them will probably be personal goals, like tying her shoes on her own or replying to simple inquiries like, "What is your name?" Other goals might be more social in nature, allowing your family member to make friends and to get along with others much more readily. Some of these goals might involve regulating the volume of her voice or learning to start conversations appropriately.
Goals Will Shift as She Makes Progress
As your family member makes progress with her goals, they can adapt and shift. For instance, if one of her goals is to learn to get dressed on her own, the initial goal might involve dressing without physical help from someone else. As that goal gets mastered, she might move on to getting dressed without receiving any verbal prompts from anyone and finally getting dressed with no help from anyone else at all.
Residential habilitation services can help you to find other Down syndrome resources that you might need. It's challenging for someone with Down syndrome to master all of the skills necessary for independent living, but with the right support it's certainly possible.
If you are considering behavior behavior support management in Carmel, IN, please call the caring staff at RSI Cares. Serving Greater Indianapolis Area. Call for Immediate Info & Assistance: 317-471-0750.
Etelka Froymovich founded Home Services Unlimited in 1997

As a practicing Registered Nurse, Etelka was keenly aware of a void in quality patient care that could be provided in the home. She embarked upon a journey to develop a home health care agency that would exceed all expectations and become a trusted partner to physicians and patients.

A Distinguished Career From Nurse to Director of Nursing to President of Home Services Unlimited
Etelka's distinguished career followed a logical progression to her position as President of Home Services Unlimited. She graduated as a nurse practitioner with a Bachelor of Nursing (RN) in 1972 from Meshgorya University in the Ukraine, close to where she lived with her family. She married her husband Phil in 1973 and decided in 1977 that they would relocate to the United States to be closer to family and to come to this land of opportunity. With an eagerness to continue her budding career, Etelka sat for and passed her Boards in the U.S. in 1979.

A Love and Talent for Working with the Elderly
Etelka began her nursing career in the U.S. at Colonial Crest, now part of Golden Living, where shewasthe In-service Coordinator, the Director of Training and Education and Director of Nursing, a position she occupied for several years.
With a group of partners, she co-founded Adept Corporation, which operated group homes for the mentally challenged. The business was successful and in 1996, Etelka sold her share to return to her roots, caring for the elderly.
In January of 1997, Etelka opened Home Services Unlimited as a fully licensed business to provide home health care. In her quest to learn to do better for her patients, she had already obtained a Masters in Healthcare Administration (MHA) in May of 1990 from the College of St. Francis. As President of Home Services Unlimited, Inc., Etelka guides the trusted, experienced care model Home Services Unlimited uses to continue providing excellent home health care.

Giving Back to the Community of Indianapolis
Volunteering for community services is a high priority for Etelka. Her memberships include the Indiana Association of Rehabilitation Facilities, Executive Women in Health Care and the Indiana Association for Home and Hospice Care, where she is a member of the Board of Directors.
Etelka has also served on the Board of Directors with Hooverwood Home, a highly regarded geriatric facility, since 1997 and as the President for 2005-2006. Through her community work, she has received several awards and accolades, including the Nora McFarland award in 2002, from the Indiana Association of Home and Hospice Care.
Etelka was honored as a "Health Care Hero" by the Indianapolis Business Journal. The issue can be read online here:

http://mags.ibj.com/activemagazine/welcome/html/ibjhch.html.

After clicking on the link, then click on the image of the issue's front page. After that, you can browse through the issue or click in a box near the top of your internet browser to adjust the page to 17, which is where Etelka's article appears.
Latest posts by Etelka Froymovich (see all)