Four Physical Challenges Adults with Cerebral Palsy Face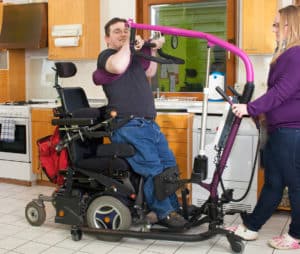 Much of life is challenging for an adult with cerebral palsy, but the physical challenges can be extremely difficult. When you have a better understanding of what those challenges entail, it's easier to get your family member the assistance she needs.
Muscle Weakness
People with cerebral palsy can have muscle and skeletal deformities that leave their muscles unable to function in the best way possible. Difficulty moving properly can also create situations that worsen muscle weakness. All of that combines to make some movements and tasks that should be easy for her to handle way too difficult. When she's tired, muscle weakness can be an even bigger issue.
Repetitive Motion Injuries
Everyone is at risk of developing repetitive motion injuries, but people with cerebral palsy can be at a greater risk. This happens because their bodies don't always move in the same ways that other peoples' bodies move and this puts greater stress on muscles and joints. Assistive devices such walkers and wheelchairs can help with repetitive motion injuries related to walking. Other devices can help with other activities, too.
Premature Aging
Premature aging describes what happens when someone's muscle tone, strength, and overall function decline sooner than they ordinarily would. Cerebral palsy places a huge strain on your family member's body, which can very easily lead to premature aging. This happens at a different rate for every individual, but it's a very real effect of dealing with the impact of CP.
Arthritis and Joint Problems
Degenerative issues, such as arthritis, are another common issue for people with CP. When you couple damaged and degenerating joints with repetitive motion injuries that can be a recipe for big problems with joints in the near future. Talk with your family member's doctor to determine how soon arthritis can become a severe problem for her. if she's only experiencing minor issues now, she may be able to extend the time between now and when she has much greater pain.
All of these issues impact your family member's ability to walk, to handle daily tasks, and simply to exist as a person with cerebral palsy. Home care for adults with cerebral palsy can make life so much easier for her. They can help her to move more easily throughout her home and they can take over tasks that are too tiring or too difficult for her to do by herself. Your family member will be safer and she'll feel more confident, too.
If you are considering care for people with disabilities in Carmel, IN, please call the caring staff at RSI Cares. Serving Greater Indianapolis Area. Call for Immediate Info & Assistance: 317-471-0750.
Latest posts by Etelka Froymovich (see all)